At COMFY SPACE, we know our success begins with your satisfaction. Hence the reason, our attention to detail and responsiveness to your unique needs are the guidelines upon which we set our routines, enhance our practices, and strive towards exceptional performance. Whether your home or office, We are reliable and responsive.
We consider cleaning your space more of an ART and less of a CHORE.

Our Art + Your Space = Your Comfort
COMMERCIAL
RELIABLE COMMERCIAL CLEANERS
At Comfy Space, Commercial cleaning is not just brushing off some of your desktops and emptying and realigning your trash cans. Our professional cleaners are trained to ensure you, your staff, and customers alike, are afforded the work/office/business environment they need and deserve to decrease stress, improved morale, make healthier choices, focus on constructive changes, be more effective and efficient (increase output), and thus, your bottom line. This we do by providing reliable, consistent, and affordable services dedicated to keep your workspace in functional mode. Equipped with the skills and experiences needed to accomplish the task, our team performs the ideal range of services for your business needs. Our customers describe us as a detail oriented, trustworthy, and reliable company. Make us your "GO-TO" commercial provider.
---
RESIDENTIAL
RELIABLE RESIDENCIAL CLEANERS
Since home is where the heart is. We want you to feel safe there, while focusing on those important components of your life, like your family. While you do that, why not afford Comfy Space the opportunity to provide you with the best residential cleaner. With the existence of COVID-19 ever so present in our daily lives, house cleaning (including apartment cleaning, etc.) is and should be at the forefront of our thought process. Protecting your family, friends, and employees, requires you to stay on top/ahead of an almost overwhelming amount of cleaning. We can help. There is nothing like being able to relax with loved ones in a clean and tidy space, or opening your door after a long hard day to be greeted by the fresh and soothing aroma of an impeccable room. This is possible because while in your space, we literally go into TLC mode (giving your space the Tender Love and Care it demands). We believe you and your family deserve a clean, decluttered, and well-organized environment in which to thrive.
---
When you walk into your space subsequent to our departure, it will and must elicit the "WOW" factor.
OUR PACKAGES
(We currently offer six (6) packages that are uniquely tailored to each customer.)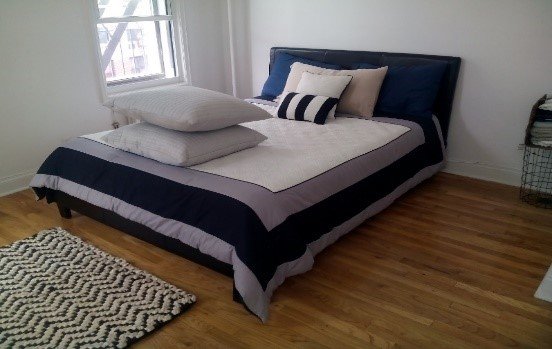 HOME & OFFICE CLEANING PACKAGE
Your personal and workspace reflects who you are to the rest of the world. What reflection do you want the world to see? Whether at home or at work, your family, friends, coworkers/employees, and customers alike, deserve the best version of you. A clean environment not only says you care about your wellbeing, but also that of those in your immediate surrounding.
Covid-19 Cleaning & Disinfection
Recurring/Follow up/Maintenance.
Move-in cleaning/Move out cleaning.
Rental cleaning
Post-New Construction cleaning
Post Renovations cleaning
Real Estate viewing cleaning
Seasonal (Spring, Christmas, Thanksgiving, etc.)
One Time cleaning (Basement, Garage, Extreme Clutter/Hoarders, etc.)
Zone/Area clean (one room, a closet, a shelf, a corner, etc.)
Pre & Post Events (Wedding, Birthday, Mother's day, Valentines, etc.)
OUR RESIDENTIAL CLEANING INCLUDES, BUT NOT LIMITED TO:
---
Houses, Apartments, Condos, Co-ops, Private Offices, Vacation Rentals, etc.
OUR COMMERCIAL CLEANING INCLUDES, BUT NOT LIMITED TO:
---
Offices, Restaurants, Churches, etc.
PLEASE NOTE:
We do not mind picking up one or two items off the floor. However, if we have to spend much of your allotted time picking up books, toys, stuffed items, shoes, boxes, etc.) and hanging clothes like in the following image, this is time taken away from focusing on other "MUST DO" chores like cleaning your kitchen, bathroom, etc. Then the time we initially agreed upon may not be sufficient to complete other important tasks. In other words, some tasks may not be completed. We agree life happens. Therefore, if you need us to do much picking up, please let us know at the time of scheduling.
GIVE AWAY
10% discount on Initial cleans



5% discount on 1st visit subsequent to a referral.
DECLUTTERING & ORGANIZING
Please Note:
Decluttering & Organizing are two separate packages.
Our Decluttering and Organizing Packages are geared to those in need of an orderly and well structured (functional) space. We will work with you to determine the desired function of the space and set it up in ways you can easily maintain.
With both of these packages, we make sure every item in your space, either has a purpose, or its own home. This is done by helping you with the decisions about what no longer serves you and taking these no longer needed items off your hands for good.


Tell us what you need.
No task is too big or too small.
In a nutshell, we will offer support and work with you to:
Decide what you want to keep, dispose of, donate, or sell.
Identify where unwanted items will go.
We would work alongside you as you dispose, donate, or sell.
Determine what the functions of your space should be.
Set up those spaces in ways that will be easier to navigate and maintain (shelving, labels, etc.).
DECLUTTERING/CLUTTER CLEANING PACKAGE
(We Declutter Physical and Mental spaces)
We assist you with removing excessive and, often times, unwanted items from an unkept/congested/overfilled space (e.g., in situations where individuals are predisposed to accumulate excess stuff). Our task is to assist with establishing order and clarity in your daily activities by eliminating the mess which oftentimes lead to psychological chaos.
ORGANIZING PACKAGE
We assist you with managing your personal effects/belongings. Whether to rearrange and coordinate your closet, pantry, or garage; add space-saving accessories to a room, entire house, or office; down-size after the kids leave for college, or more specialized services, like working with hoarders, seniors, or individuals with disabilities, we can help enhance the functionality of those systems and processes needed to thrive in your space.
If you need our decluttering or organizing services, please do not be afraid or embarrass to reach out to us. Trust, when we say we have seen worst. It is why we exist. Your items, as well as your feelings are safe with us.
Please remember, you will be an active participant in the process. We will be asking questions about what you want to keep in the space.
Therefore, this will not be the time to say something like, "I have to run an errand," or "I will see you soon".
It is not a time to meet the boys at the bar, or the girls at the coffee shop. Once we have completed the task, and your space is functional, we can all meet the boys at the bar, or the girls at the coffee shop.

PACKING/UNPACKING PACKAGE
We bridge the gap between hiring an expensive packing company and you stressing yourself by attempting to do it all by yourself.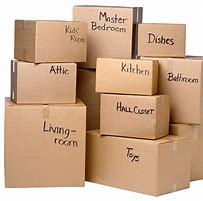 Can't afford a full-service packing crew on your budget?
They cost an arm, a leg, and then an ear. Trust us. We know.
So, your moving day is getting closer. For weeks or months, you have been trying to sort and pack. However, it looks like you have not even made a dent. You are getting nowhere. You took the day off, but it all seem a bit overwhelming for you to tackle by yourself.
Dreading the reality you might be/are running out of time; the entire process and experience only adds another layer of tediousness and stressfulness to the moment.
Do not worry.
We will come in and work side by side with you to help you through the process.
We will work alongside you to help you ensure your items are properly wrapped and packed for the journey.
We can help you identify unwanted items which can be thrown away, so as not to clutter your new space.
NB: If you are in the NYC area, we can even assist you with unpacking.
Do you travel often/any at all?
Let us be your eyes and ears in your absence.

How comfortable do you feel, leaving your house/apartment standing all by itself and unattended?
Would you feel better if someone was there (in your absence of course) to keep potential trespassers at bay, readdressing or simply collecting the mail, and in general, making sure that everything runs smoothly (just as it would if you were at home). This might include feeding the cat, fish, bird, etc. Would you be more at peace to conduct your business, enjoy your vacation, or focus on that sick member of your family? We can help. Call us.
LAUNDRY PACKAGE: SORT, WASH & DRY, FOLD, AND PUT AWAY.
You hate having to do laundry.

Even worse than doing the actual washing, is the process of having to sit/stand there for over an hour (on your weekend, or late evening) folding and refolding. Ok, that was bad enough, but what you despise even more, is the thought of having to take all your personal undergarments and hand them over to the person at the laundry mart.
WE HAVE A SOLUTION FOR YOU.
We will come to your home, sort, do, neatly fold, and put away your laundry. This should free up some quality time for you to do something you love and enjoy. Is that something you could appreciate?

Please Note:
This service works well for individuals with inhouse or access to their building's laundering equipment. We do not take your clothes to outdoor laundry marts.
ADD ON SERVICES (AOS)
These services go above and beyond our standard packages.
In addition to the thorough and complete cleaning tasks which come with our standard cleaning package, we also provide a range of complementary services from which you can choose depending on your needs (for a nominal fee).
We encourage you to take full advantage of these additional services for an even deeper clean!
Please let us know (at the time of scheduling) if you would like to include any AOS in your standard package.
DEEP CLEANING
Deep cleaning is much more intensive than regular cleaning.
Special focus is placed on those areas which are not typically attended to during a regular cleaning (i.e., under bed, behind couch, etc.).
It will not only ensure that your home looks good from far but from centimeters away.
A Deep Cleaning should be done at least once per year.
Important
Space must be decluttered prior to Standard or Deep cleaning.
Cleaning crew cannot clean a cluttered space.

Please have your beds, sofas, or any other heavy objects you need us to clean beneath, beside, or behind already pulled out for the cleaner.
Find a new place for (or better yet, get rid of) any visible clutter which does not belong in the room. It makes for a much better and more effective clean.

"Please talk to us about scheduling" a decluttering session prior to your cleaning appointment.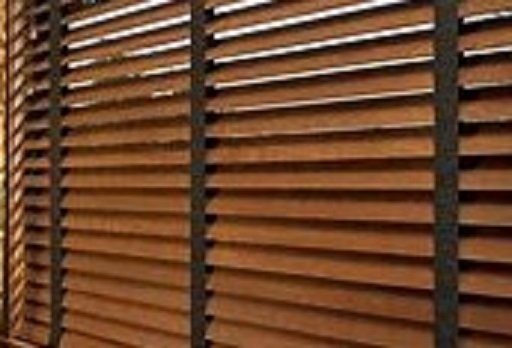 BLIND, DOOR, & WINDOW CLEANING
Cleaning Blinds, Doors, and Windows are three (3) separate packages.
---
One of the most time-consuming tasks is that of cleaning blinds. This should be done at least every 5 - 6 months to maintain.
A small set of blinds can take anywhere between 35 minutes or more, depending on the size of the blind, as well as its individual blades, type of blind or how dirty they are.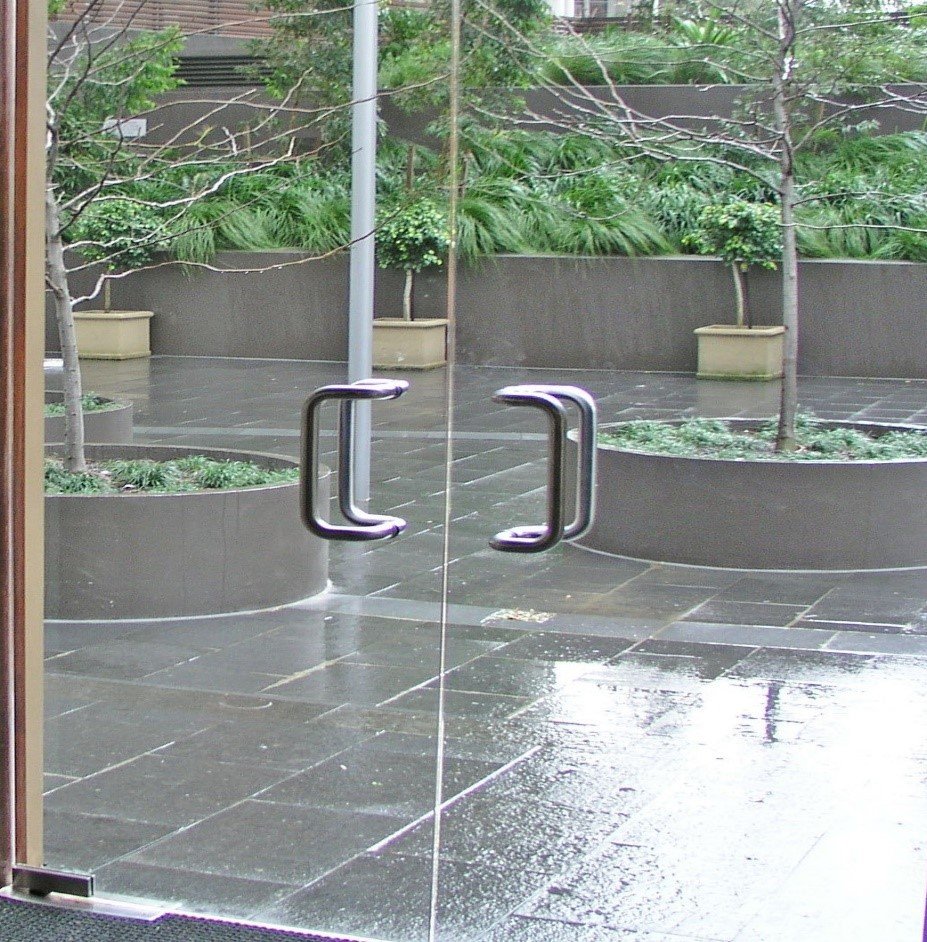 DETAILED CLEANING
Door panel/glass & track
---
Enjoy a clean unobstructed view of the outside from inside. If you have young children, nieces and nephews, or the grand kids over recently, then you know exactly what we are talking about. In addition, be able to slide your doors from left to right without any friction.
---
INTERIOR WINDOWS AND STOOL/SILL CLEANING
---
Do you wish to improve the quality of light flowing into your space? Then, get your windows cleaned. There are several factors (fingerprints, dust, streaks, etc.) which can affect, not only the quality of light entering your space, but also your view. To enhance the glow value of your space, have your windows cleaned, at the very least, three times per year.
MIRRORED WALLS
---
Among the many pros of having mirrored walls are to act as a sunlight and manmade light reflector, making the room more inviting, open, and brighter. Dirty/soiled mirrors have the opposite effect. During the day, mirrors help illuminate a room. As a consequence, you save on energy cost due to reduce number of times lights are turned on.
---
REFRIGERATOR
(Freezer, Top, Sides, & Under)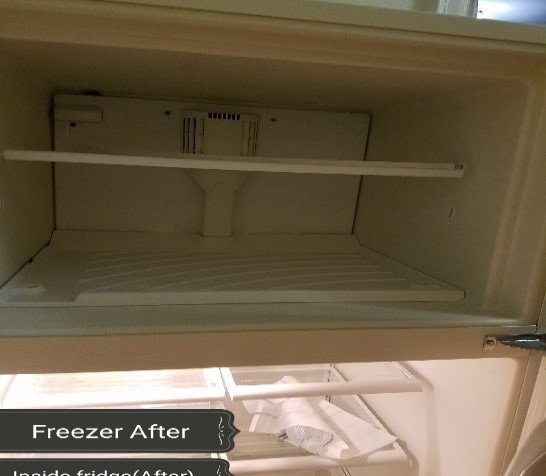 Important
Please empty fridge prior to start of appointment.
If you need us to remove and replace the contents of, or items on top of your fridge, please tell us so at the time of scheduling.
Fridge top may be cleaned if all contents are removed prior to start of the appointment, and a step ladder is provided.
We can clean the sides of fridge, only if it is pulled out for the cleaner.

For our safety, and that of your property, we cannot pull out your fridge.
While the front of your fridge is included in your regular package, its Interior, Top, Behind & Beneath are included in our ADD ON package.

Your fridge is one of the appliances which takes the most beating. Hands are always touching it, food going in and out, spills, drops, leaks, etc., all makes it difficult to stay clean. Going unclean for too long can cause mold build up, which will eventually contaminate your food, creating gases that are toxic to inhale.

Please Note: All magnets on fridge front should be removed prior to cleaner's arrival. In that way, cleaner can easily access and clean area without having to spend much time removing them. This time could be spent doing other tasks which may not otherwise get done within your allotted time slot.
INTERIOR CLEANING
(Cabinets, Cupboards, Closets, Drawers, and Shelving)
Important
Much like your refrigerator, Cabinets, Cupboards, Closets, Drawers, & Shelving MUST be emptied prior to the start of your cleaning appointment.
If your Cabinets, Cupboards, Closets, Drawers, & Shelving needs to be Decluttered and or Organized prior to being cleaned, please view, or ask us about our Decluttering and Organizing Packages.
Ok, so you moved in ten years ago.
Have you ever totally cleaned out your kitchen cupboards, pantry area, or closets since then?
"Use, Throw out, Replace". That cycle repeats itself. Don't you think somewhere between "Throw out" and "Replace" should be "Clean"?
Why do you think it is not there? Yes!! It is a time-consuming process.
Who wants to spend their time off cleaning cupboards?
I am glad you asked! We do. Just point us in the right direction.
CLEANING WALLS BEHIND, BESIDES, AND FLOORS BENEATH STOVE, AND WALLS IN GENERAL
Food, fingerprints, crayons, pens, pencils, couch marks, (the list can go on and on) are only just a few of the things which can be found on a wall covered with dirt. The more it builds up, the harder it is to remove.
We can help you.
UNDER STOVE TOP, STOVE SIDES, RANGE HOOD (ABOVE & BELOW) & FILTER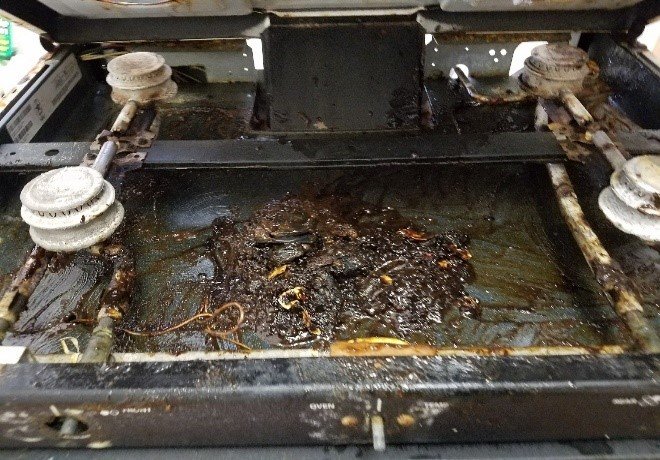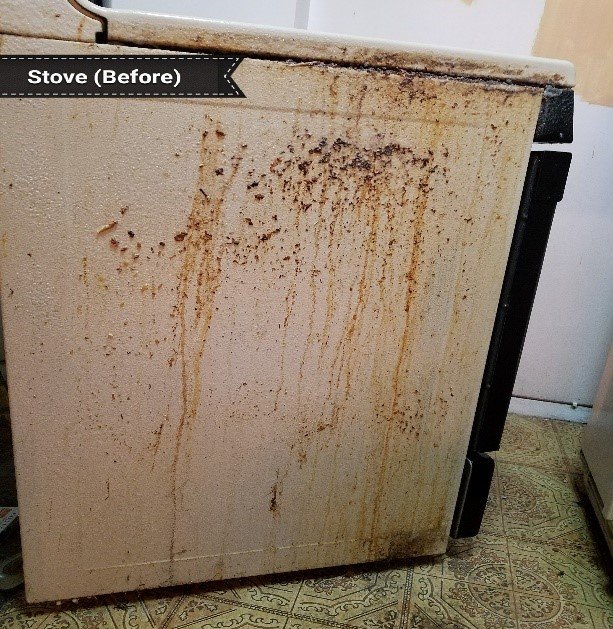 RANGE HOOD ABOVE, BELOW & FILTER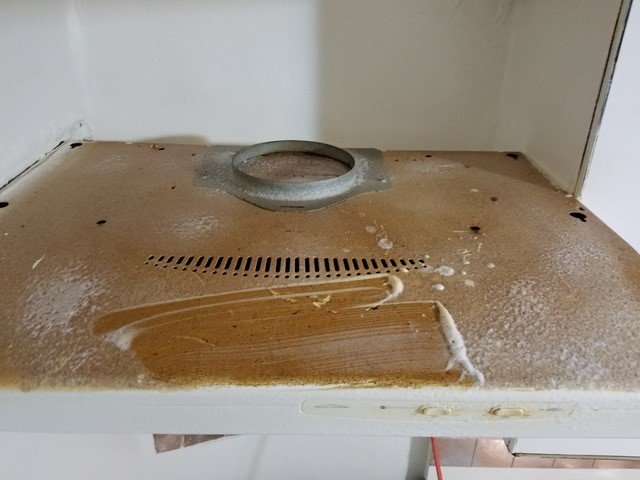 Properly cleaning your oven might look simple. Do not let it fool you. It can be a very laborious process. The accumulation of food from overflows/spills from three or more Christmases ago can be as stubborn as a mule to remove; say nothing about how your back would feel by the time you are done.
I am almost sure that is not how you wish to spend your time in the kitchen.
We are the cleaning service for you.
Let us help you.
Important
For self-cleaning ovens, be sure to run the self-cleaning option the night before we arrive.
DO NOTE
The self-cleaning coating cannot be cleaned with our cleaning solutions as it may damage the coating.
GROUT (before)
---
GROUT (after)
---
---
PICTURE FRAMES
---
A reasonable number of frames (4 to 8) are included in our standard cleaning package. However, a large quantity of frames is considered an ADD ON.
WASHING DISHES
---
FILLING OR EMPTYING DISHWASHER
---
---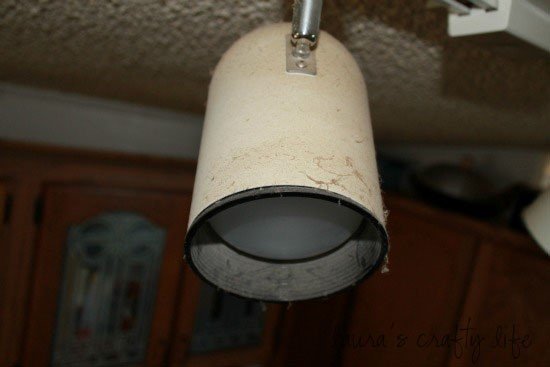 ---
BASEBOARD
---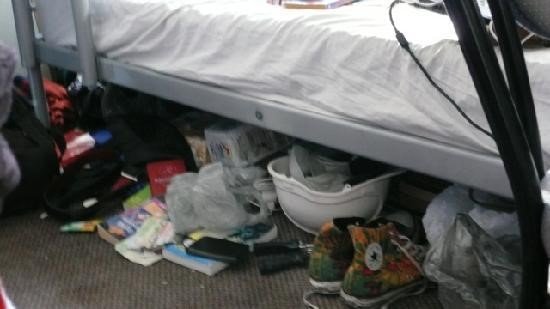 CLEANING UNDER BED
---
Please have your beds, or any other heavy objects you need us to clean beneath, besides, or behind already pulled out for the cleaner.
---
THOROUGH VACUUMING UPHOLSTERED FURNITURE
---
SERVICES WE NEVER PERFORM
SCRUBBING FLOORS ON HANDS AND KNEES
CLEANING MUSICAL EQUIPMENT (GUITARS, DRUMS, HORNS, ETC.)
CHANGING LINENS ON TOP BUNK BEDS OR MAKING-UP TOP BUNK BEDS
CLEANING ANYTHING ABOVE 15 FEET
CLEANING OF ANIMAL OR HUMAN WASTE (URINE, FECES, LITTER, ETC.)
BIOHAZARDS (EXCESSIVE MOLD, BLOOD)
HIGH REACH AREAS IF NOT WITHIN REACH WITH STEP LADDER
GARDENING & YARD WORK
EXTERIOR WINDOW CLEANING